Can You Trade in A Car That Has Damage?
Your teen is learning how to drive and can't gauge the distance to the power pole in the rearview mirror. Some jerk on a cell phone doesn't see the stop light and bashes into the side of your car. You come out from the mall and discover a note on your windshield, apologizing for the long scratch all the way down the side of your new truck.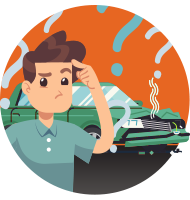 Body damage happens, which is why the automotive insurance industry is thriving. But it certainly doesn't mean you have to keep driving a damaged car, nor should you be happy about it when your pride and joy isn't all that it used to be.
You might want to start fresh with a new car. You can trade in your vehicle and buy something different...but be prepared for an unpleasant surprise. Selling your vehicle online might be the better choice.
Did You Know
When a car is repaired after collision damage, it can lose between 10% and 50% of its value. You could spend lots of money repairing a car that won't return the value.
Or you could sell your damaged car online for a fair cash value. We buy body damaged cars with free towing included! Get an offer for your vehicle in 90 seconds now!
How to Go About Trading in A Car With Damage
The damage on your car could be completely fixed and undetectable, but body damage affects resale value.
How, you ask? It's because of a little thing called a vehicle history report. Ever heard of Carfax?
When your insurance company pays the bill to fix the body damage on your car, it's listed on your car's vehicle history report, along with the cost of the repairs. Anyone looking to buy your car, dealers included, can and will access a vehicle history report.
The fact is that no one in their right mind would pay the same value for your car with thousands of dollars in previous body damage as a car that has a clean VHR, no matter how well the repair was completed. Your car trade-in value will be less, often by thousands of dollars.
Can I Sell A Car With Body Damage?
Never traded in a damaged car before? The process is quite simple for the most part.
You find a car you want to buy at the car dealership. It could be used or new. Once you've settled on your new car, the negotiations begin.
Your car's trade value is assessed when someone looks over its condition, then checks its vehicle history report. Your car's trade value is compared with it's wholesale value — something the dealer has access to. Then, the previous body damage is factored into the trade value.
Don't be surprised if the salvage value is significantly lower than you expected, especially when your car has been in an accident previously. The trade-in value of a damaged car can be affected to the tune of thousands of dollars.
How to Trade In A Damaged Car
If you want to get the most money for your car on trade, here are a couple tips:
Fix minor body damage without an insurance claim. If you pay for the repairs outright, it won't show up on your car's VHR.

Clean your car up. Make your car look as good as possible by washing and vacuuming it. It gives the appearance you've looked after your car well.

Don't skimp on body damage repairs. Shoddy work is worse than not getting it fixed at all. Even an untrained eye can find poor workmanship!
How can I get an instant quote for my vehicle?
It's simple and it takes less than 90 seconds... click the button below to get started and find out how much your junk vehicle is worth!
Vehicle Pick-up is FREE Nationwide. No Haggle. No Fees. We are A+ rated business at BBB.
Guide On Selling Damaged Cars
In many cases, yes! In fact, your trade value might be higher if you trade your car in with the body damage unrepaired. Not only can the dealer see the problem as it is, but they can also profit from doing the repairs themselves.
The downside is that some dealerships won't want to deal with cars that have body damage or don't run. If that's the case, you might not be able to trade it in, or you might get a significantly lower appraisal. Especially if it's not running.
Can I Sell An Accident Damaged Car?
Trading in a car with body damage isn't too complicated, except for the valuation. It works the same way except the trade value will be much lower. If you have an incomplete insurance claim, you can usually get more money for your car.
Minor damage will be a small hit to your car trade-in value while extensive damage will put a-hurtin' on your trade value.
The Best Way to Sell A Damaged Car
If your car has frame damage, it changes everything. Your car trade-in value is much, much lower.
Frame damage and engine problems are repairable in most cases, but it requires more specialized labor to fix. Some dealerships just don't want to chance trading in a car with frame damage, so you'll be left on your own to sell your junk car.
In a case where a car dealer will take your car on trade, even with frame damage, your trade value will be depressingly low.
How to Sell An Accident Damaged Car
You can go to your local car dealerships and haggle for the best trade value for your car. But if they're looking to make money on all sides, you won't get as much on trade as you'd hoped. Fixed or not, body damage will dramatically affect your car trade in value, so it might not be the best option to get rid of your car.
Sell My Damaged Car Near Me
You can schedule a trade in inspection at your nearest CarMax location. They advertise that they'll buy your car from you whether you trade it in or just sell it to them outright.
But make note that CarMax is very clear that body and frame damage, as well as vehicle history reports, affect the value you'll get for your car.
Trade In Your Damaged Car With DamagedCars.com
Damaged Cars will give you a fair offer for your car whether it is pristine or in less-than-perfect condition. It can have body damage or frame damage — you'll get a fair price based on its condition and it will be as easy as can be.
Request an offer online for your car and give your vehicle's details. You'll receive a guaranteed offer for your car in as-is where-is condition.
If you accept the offer, Damaged Cars will put cash in your hand for it and pick it up, free of charge. Easy as that. Get your offer for your vehicle now.