How To Get Rid Of A Car For Money
Getting rid of a car may be a time-consuming and stressful process, and getting the best price for an old, wrecked, or used car may be difficult. Fixing the car may be too expensive, so you'll have to start figuring out how to get rid of your car.
If you're searching for how to get rid of a junk car without the fuss, you have a few options. Here are some of the choices you'll have over scrapping your car when looking for potential buyers.
How Do You Know When It's Time To Get Rid Of Your Old Car?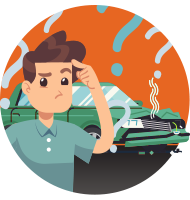 A great rule of thumb to determine when to get rid of an old car is how much you're spending on repair and maintenance. Add up all the repair costs your vehicle has required over the past two years and divide it by 24 then add in maintenance costs.
The result will give you a clear estimate of what you're paying for your car each month. If these costs exceed the car's actual value, then it's time to decide to part ways with your car.
Additionally, if your insurance company determines your car is totaled, then you might want to part ways with it too. They feel as if repairing the car will cost more than the car is worth and repairing it yourself would only put you in the hole.
What's The Best Way To Get Rid Of Junk Cars?
When figuring out how to get rid of a car that doesn't run, you're likely weighing two factors: speed and profit. Whether it's after a collision and only worthwhile for its scrap metal or your vehicle is just growing roots in your front yard, whomever can pick it up fastest and pay the most is typically your favorite option.
Sell It To A Junkyard
If you want to figure out how to get rid of a totaled car with a blown motor and other problems, a junkyard may be the most obvious option. That's where you type cars with problems. However, there are some downsides to this choice too:
It can take a while to get quotes from multiple different locations.

You don't always know if free towing is included in the offer.

Some places you call may not service your area for free.

Some places may change your offer when you get the car to the yard.
If you want to get a guaranteed, fair-market offer with free towing included, there's another way: going online.
Trade It In To A Dealership
One method for how to get rid of a wrecked car is to take it to a dealership. This method has its pros: you can trade in your vehicle in the same place you buy your car, minimizing the search time, and you can put the value of your vehicle directly towards the purchase of another vehicle.
However, there are some notable cons, especially if you want to get rid of your junk car for a fair price. Dealerships don't specialize in old, damaged or broken down cars, so if your vehicle doesn't have any serious resale value, you're going to get a lower-than-market-rate trade-in offer for it.
Additionally, if your car doesn't run, chances are you'll be on the hook for the cost of towing it to the dealership. That could cut into your potential profits, making the process a more complex way of getting rid of your car for cash.
Sell It To A Private Buyer
Getting rid of a car by selling to private buyers is an attractive option for selling old clunkers. Private buyers aren't limited by pricing or any condition restrictions. If your model is popular and in demand, someone will pay top dollar for it.
However, finding that person willing to buy your old car can be a headache. Qualifying serious candidates and haggling are the biggest hassles when dealing with private buyers.
Platforms like Craigslist and Facebook Marketplace are some examples of platforms to find buyers willing to take your car off your hands.
Donate Your Car
Donating your car to a reputable charity or non-profit organization may make you feel good, and usually, a charity will offer free junk car removal service. Furthermore, getting a tax deduction for donating your vehicle is on the table.
But again, there is a maximum tax write-off that could leave you short-changed when it comes to getting rid of your old car.
Also, charities aren't typically equipped with the manpower to retrieve and handle cars in poor or non-working condition. If you're getting rid of an old clunker, donating it might not be the path for you.
Part Out Your Car
Selling your car for its parts is another option to try and maximize profits. Parting your car out involves breaking it down into its individual components and selling whatever is reusable. You can double or even triple revenue with this method.
That said, parting out a vehicle requires time,space, and the mechanical expertise to dismantle a car without damaging the parts you're trying to sell. Additionally, cars typically net more money when sold whole.
Online Dealerships
The internet has created a playing field for companies like CarMax and Carvana to capitalize on. Companies can now purchase your old car online, without you having to search or travel at all.
Some of these online dealerships specialize in reselling the cars they purchase. They also may not provide a removal service if your vehicle doesn't run or is outside of their area of service.
Ultimately, you may be getting lowballed if your vehicle doesn't meet their particular criteria.
All of these situations are likely to net you a low offer. If you still owe any money on your vehicle, your goal should be to sell it for as much as possible so you can pay off your remaining loan faster.
Get Rid Of Your Car With DamagedCars
DamagedCars specializes in buying cars that have seen better days. We buy cars nationwide through our network of local service providers. We are where you are.
Regardless of the reason your car is damaged, the process of selling a junk car is as easy as 1-2-3:
Step 1: Get your free quote! Simply enter some basic information about your car on our website and you'll receive a free and guaranteed quote within 90 seconds.
We encourage you to do your research. Look up DamagedCars.com. Our offers are good for several days. You can come back when you're ready to sell us your car.
Towing is complementary, so you'll never have to worry about hidden or additional fees taking away from the profits you take home.
Step 2: Schedule your pickup within 24-48 hours! If you're happy with your quote, you'll be able to schedule your vehicle retrieval with one of our partners within your area. They're trusted to come to you at a time that works best for you.
Step 3: Complete your sale! After a quick inspection and transferring of your title, you'll receive the amount you were quoted, no haggling or fuss. Your vehicle is taken off your hands and money is put in them!
You'll get an offer from us with no pressure to sell from us, and we can answer any questions you may have about your cars.
All we need is your ID and proof of ownership to pick up your car. And remember to check your local laws regarding license plates before we buy your damaged vehicle — if they stay with the seller, remove them!
NO Haggle. NO Hassles. Contact DamagedCars today!
We Buy and Pick Up Damaged Cars,
Nationwide!
Before thinking about where to find a junk yard near me, you can see this list of areas where we serve to buy your junk car. We provide instant cash offers and free pick up your damaged vehicle in as little as 24-48 hours.
Principal Cities:
See All Locations Here
We Buy All Brands And Models, Such As:
YEARS: 2004, 2005, 2006, 2007, 2008, 2009, 2010, 2011, 2012, 2013, 2014, 2015, 2016, 2017, 2018, 2019, 2020, 2021, 2022, 2023