Whether your car is totaled or repairable depends on the extent of the damage, along with other factors. You have options for selling your car.
Is My Car Totaled or Repairable?
Whether your car is totaled or repairable depends on your situation, including your car's Blue Book Value and the extent of its damage. If your car is totaled, you could benefit from selling it.
Many companies exist for the sole purpose of purchasing totaled cars and then scrapping them for parts.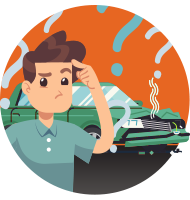 Yet, if repairs are feasible (and they don't cost thousands of dollars), you could keep the vehicle and use it for commuting around town.
Even then, however, you could still have to pour endless money into repairs. In that instance, you could benefit from selling the car rather than constantly coming up with money for temporary fixes.
How Does Totaling a Car Work?
Per Kelley Blue Book (KBB), the term "totaled" comes from the term "total loss." Here's a scenario to understand what a totaled car is.
Suppose you get into a collision driving your mom's old Ford Escort. The crash renders the car undriveable.
You take it to the mechanic and file an insurance claim. Then, the adjuster comes back with upsetting news: it costs more to repair your car than it's worth.
At this point, you have some options. As noted, you could pay for the repairs yourself and extend the vehicle's lifespan.
Alternatively, you could sell the totaled car to a service who can appraise the vehicle, tow it, and even offer cash. The best option depends on your situation, financial resources, and the car itself.
Can You Fix a Totaled Car?
The question shouldn't be: "Can I fix a totaled car?" Instead, it should be: "Should I fix a totaled car?" For many, the answer is no. Here's why:
You could constantly find yourself paying for repairs. When you ask a mechanic to repair a totaled car, they aim to make the car drivable. They don't address any issues that could pose problems in the future, such as a damaged undercarriage. In the future, this could require further repairs, some of which you might have to pay out of pocket.

Your insurance premiums may increase. Most states require that you carry insurance to drive legally. The insurance company may increase your monthly premium if you continue to drive a car it deems unsafe.

You risk your safety. Hopefully, you were lucky enough to walk away from the first collision unharmed. That's because your car's cab absorbed the impact of the crash. You risk your health by continuing to drive this vehicle. If another collision happens, a weakened car may not absorb the impact, causing you to suffer serious injuries.
Is It Worth Fixing A Totaled Car?
As noted, whether it's in your best interest to fix a totaled car depends on many things, such as:
The car's value. After an accident, if your car is only worth $4,000, do you think it's a good investment to spend $5,000 on repairs?

The problem itself. If a car had minor damage after an accident, the insurance company probably won't deem it a total loss. Yet, if it has structural problems (affecting the frame), you would be safer getting a new vehicle than risking your life in a damaged one.

Your financial resources. As mentioned, your insurance premiums will likely increase if you continue to drive a car once deemed totaled. That's because the insurance company anticipates that if you get into an accident, your car (and you) will experience extreme damage––and it doesn't want to be on the hook.
Sell a Totaled Car With DamagedCars
Nobody wants to deal with the financial aftermath of a totaled car. Thankfully, you don't have to.
If you're looking for a fast and guaranteed offer on your totaled car, DamagedCars.com is here. In just 90 seconds, you can get an honest offer. In just a few days, you can get cold, hard cash.
Here's how our easy three step process works:
Get an offer! Fill out our simple form and get a fair market value quote for your car in as little as 90 seconds.

Schedule the pickup! If you like the quote we offer, we'll help you schedule the pickup at a time that works for you.

Get paid! Once you have the pickup scheduled, all that's left is to wait for the driver to arrive and collect your payment.
At DamagedCars, we go to you, not the other way around. Selling your totaled car is as easy as handing over the keys.